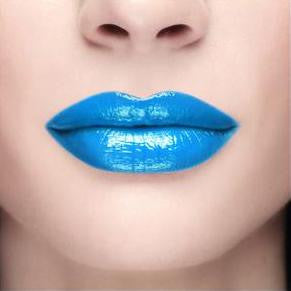 It's well-known that a red lipstick is a must-have in every woman's purse. Sure, it's classy and matches with almost everything, but what happens when you want to try something different? And I mean literally something different.
As a woman we spend hours picking the perfect outfit and make up for every time we are going to a party, a date, or a concert . . . Okay, everywhere else outside our home is a 'what am I wearing today? Guess I can't be the only one, but in the past when I partied hearty, almost EVERY female in the room had on the same lipstick color, or at least, a few variations of it.
And as I've said before, sure it looked classy and nice, but I don't think anyone enjoyed the idea that she looked exactly like every other female in the room. So, if you've gotten stuck in time let's think outside the box for your next look and try something different: Blue lipstick.
Here are 5 things that a blue lipstick can do for you and when is the perfect time to wear it:
1. Change the way you look with any dress you choose:
You know that classic black dress we have in our closet? We may have used it a hundred times, but what about trying it with a blue lipstick and a cute hairstyle for the night?
You'll see! It's amazing how a blue lipstick can not only change your entire outfit, but will also change the way you look.
2. Something to talk about:
This new look of yours will leave people with something to talk about, perfect for breaking the ice!
3. All eyes on you
People will be hypnotized with this sexy and new color! Great for a dance club.
4. Feel unique, be unique
Make a statement with an edgy blue lipstick that says I'm a unique, confident and trendsetter woman, perfect for a night on the town.
5. Something new
Don't get stuck in doing the same things, and wearing the same look every day. Step out and explore the new that life has to offer. If you've never considered a bold lip color before, NOW is always the best time to try something blue.