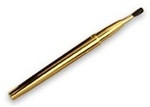 Retractable Lip Brush is a uniquely designed portable gold lip brush with a flat rounded tip, and a blown metal protected cap for the application of lip products.
Brush becomes visible when opposite end is pushed into the cap, and stays in place for easy application of lipstick.
Remove protective cap from opposite end and brush retracts. Cover brush with protective cap to keep clean. 
Blown metal cap
Soft, firm bristle
Comfortable feel
Retracts so brush stays clean
Fits into any purse or pocket
Great for traveling
Retractable Lip Brush