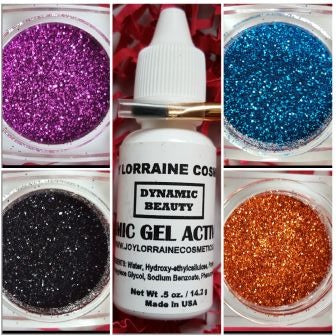 Description

What it is

Benefits

Ingredients
Four perfectly color coordinated, sparkling cosmetic grade loose glitters, safe for wearing on skin or hair to create a variety of customize glitter makeup looks. 
4 x 5-gram jars
Cabaret Kit: Includes four 5-gram square jars of cosmetic glitter for all-day sparkling effects and the perfect loose glitter for eyeshadow, a glue for glitter makeup, and a mini brush applicator.
Sparkling Effect Glitter: The purest cosmetic grade ultrafine glitter for maximum sparkle that's acid free, and safe for wearing on skin.
Glitter Makeup Glue:

 

A

 vegan, non-irritating colorless gel to seal loose glitter without fallout so it stays where you put it.

Organza Bag: Quality 4 x 6 sheer nylon drawstring packaging that can be used for other purposes.

 

 
Ultrafine .008 x .008 for maximum sparkle
Pure cosmetic grade glitter
Acid free, oil free, talc free
Vegan glitter makeup glue
Cruelty free and paraben free
Glitter: 100% Copolymer or Aluminum Copolymer

Dynamic Gel Activator: Water, Hydroxyethylcellulose, Polysorbate 20, Propylene Glycol, Sodium Benzoate, Phenoxyethanol.
Sparkling Effect Glitter Kit - Cabaret